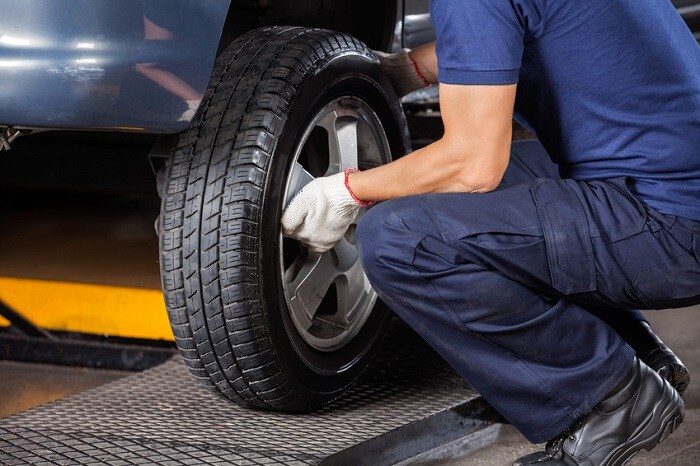 Regardless if you check out your tires at home or stop by for a Toyota service near Mechanicsburg, performing regular inspections is essential. If you have concerns, our team at Heritage Toyota Harrisburg can help. We sell new and pre-owned Toyota cars and host an on-site parts department and service center.

So, how can you tell if you need new tires? First, always double check with your manufacturer guidelines. That's where you'll find info on the average amount of miles and the length of time that your tires last. At our Toyota dealership in Harrisburg, PA, we're happy to thoroughly inspect your tire for the following:
Tread wear. Insert a penny with Lincoln's head face down into your tread. If the top part of his head is showing, it may be time for new tires. While you're checking the tread, also make sure that all of your tires are evenly worn. If you notice one tire looks worse than others, then you may have an alignment issue.
Tire pressure. Review your car's recommended inflation pressure. Then use a tire pressure age to check inflation. Simply take off the tire's valve stem cap, place the gauge on the valve stem, and press down until the hissing stops. Lastly, you'll remove the gauge and check the pressure.
Tire condition. Walk around your car and examine all four tires. If you notice any bulges or cracks in the tread or sidewalls, then your tire may need repair or replacement.
Tire age. Even if you're not packing the miles on your car, the age of the tire affects its safety and performance. Each tire has a DOT stamp on the sidewall. Look at the last four digits. The first two give the week of the year that the tire was manufactured while the last two numbers equal the year.
To learn more about the tire services we offer, get in touch wtih us at Heritage Toyota Harrisburg! We look forward to working with you soon.